The Clearing's Approach to Change Management
At some point, your organization will face a strategic challenge: Adapting to a changing competitive landscape, combating stagnant growth, teams not functioning at the highest levels, the list goes on. With the proper strategy and alignment, such challenges can be solved quickly and effectively, reducing the negative impact on your people and their work. Guiding organizations through that process is one of the primary reasons firms like The Clearing exist. In fact, the two words that most-often come to mind when talking about consulting are "change management."
At The Clearing, we approach change and transformation in an agile and actionable way, combining our own innovative thinking with our clients' expertise to develop pragmatic solutions that last. Our change management consultants help our clients "lead through change" by assessing the organization's current environment and diagnosing underlying issues that keep an organization from realizing its vision.
Our change management strategy creates a shared perspective and shared intent among critical stakeholders, mitigates risks, enrolls stakeholders, and determines behaviors necessary to implement and sustain the change. Those principles have resonated with TC Analyst Colin Wills, who has observed several parallels between change management and his personal experience with cross-country running. Below, Colin explains how lessons learned during his time on The George Washington University track team overlap with his experience in management consulting.
What Led You to a Career in Consulting?
I graduated in May of 2020, at the height of the COVID-19 pandemic, which was an interesting time to begin the search for a career The silver lining of that experience is that it provided me with more time to understand and reflect on my future career aspirations, and branch out into my network.
I knew I wanted to work in a change management-oriented capacity, preferably where people were at the center of the change effort. I really enjoyed utilizing my communications skills along with my Minor in Organizational Sciences, where I learned a lot about change management principles. While on my job search, I stumbled across management consulting and realized my skills lined up nicely. I'm fortunate that since I've been at The Clearing, the majority of my time has been centered around change management projects – which is exactly what I was hoping for!
Tell Us About Your Experience in Cross Country 
I began track in fourth grade and cross country in fifth grade because like many other runners, you realize you're fast at other sports and so eventually try out running track. I had a decent career throughout high school and I had the opportunity to pursue that on a Division 1 level at The George Washington University in Washington, D.C.
The interesting aspect of that is the track program was relatively new at the time, while the cross-country program had been around for a while. In fact, the indoor and outdoor track team was only four years old when I joined. And when you add a program like that, it really offers the team the opportunity to pursue and recruit additional talent. My tenure was focused on the change from a new program to an established program, including the evolving mindset accompanying that shift.
When I arrived on campus as a freshman in the Atlantic 10 Conference, we were not quite yet competitive with other teams in the league. Being a new-ish team led to a mindset of complacency and thinking that we were as good as we could be. That mindset really shifted throughout my sophomore, junior, and senior years – and is where I see parallels between competitive running and change management.
Lacing Up for Change
At The Clearing, we focus on the people at the center of a change effort – both those implementing it and those affected by it. Typically, the people we first interact with when engaging in a transformation are senior leaders. For any change effort to stick, you want to make sure that you mobilize and have a shared vision across the leadership team. When it came to my college team, it meant having coaches in alignment that were driving the vision of what the team could achieve.
The second part of change is mobilizing middle managers. On our track team, these were the captains or senior leaders. Our coaches worked to engage these respected runners, aligning them with the vision, and employing them as ambassadors for change. This was a critical step: these leaders set the example for the team on the attitude and work required to improve. 
Next, we have to ensure we engage front-end stakeholders, often the ones most affected by a given change. In terms of my team experience, that was the freshmen and younger talent (including myself – I was a sophomore at the time). Here, it is ensuring leadership is modeling desired behavior (i.e., completing workouts; maximizing recovery and nutrition; etc.), engaging to ensure all stakeholders understand the vision, and instilling a sense of ownership across levels. In our case, team results (i.e., the difference in winning and losing track meets) would only improve if everyone was bought in.
With alignment at all levels, we began to see the desired change come to life. We achieved the best individual and team results in program history. However, just like in our change management efforts at The Clearing, the work doesn't end when the initial results begin.
At this point, it is critical to ensure the new ways of working, use of tools, and expected outcomes are ingrained across the organization. When it came to our team, it meant creating a system that rising leaders could step into and perpetuate the change. For my class, it was critical that as juniors and seniors we lived into the attitude shift that we had started the previous season and held the bar for higher expectations. In short, it was up to us to ensure the change stuck.
I had the privilege of leading through this transition as a co-captain and then captain in my junior and senior years. Something I really took to heart was creating a system that would perpetuate itself through future leaders. That meant setting the example from day one when everyone starts back on campus in August for summer training, in the beautiful D.C. heat and humidity, that our expectations for ourselves were going to be to outdo the previous season. With that mindset, the longer-term culture shifts began in earnest.
At The Clearing, we use the Culture PRIME to illustrate this shift for our clients. Think of culture as a line. Above the line are behaviors we tolerate; below are behaviors we don't. It's not about "good" or "bad" – it's simply about what is allowed to transpire. For our track program, "complacency" was a tolerated behavior. However, our coaches recognized that to realize their vision, complacency could not be tolerated. That meant it had to be dropped below the culture line as a behavior that was no longer accepted, with desired behaviors replacing it. At the time, I had no idea what the culture line was, but in retrospect, we used it effectively to drive sustainable change.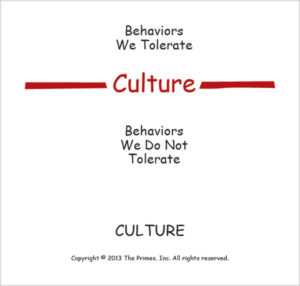 How can Leaders Incorporate These Principles into Their Everyday Work?
Level-Set – Over and Over Again. We held a level-setting meeting at the beginning of every season. When I served as a captain, I would lead it. We would have the entire team come together and talk about team expectations, team goals, and cultural norms, in terms of pushing for change (i.e., continued better results). This is important – just as students graduate, people take new jobs. That means maintaining a desired culture requires continual effort, which is why level-setting isn't a one-and-done activity.
Acknowledge Small Wins. Just like a fledgling track team doesn't go from middling to winning the NCAA championship in one season, organizational change also takes time. However, that doesn't mean that only the end goal deserves celebration. Getting to that end goal is often the culmination of achieving any number of smaller goals. Celebrating those smaller achievements is a great way to keep people engaged on the path to your final destination. For us, it meant celebrating personal bests, beating year-over-year meet results, etc. In the professional world, it's tracking and acknowledging key performance indicators along the way to your desired outcome.
Be Adaptable. I think it's important to understand that even though you have a process set, it often doesn't work out as you think. However, I learned a big lesson in college that I didn't know in high school. In high school, I thought if I had one big workout that I didn't hit just right my fitness wasn't there. That thought process clouded my ability to compete effectively. However, I realized in college that one bad workout doesn't make or break your ability to achieve your goals. It may require you to adapt your training, but it doesn't mean your end goal is no longer out there. It's the same in the workplace. It's never any one meeting. It's never any one deliverable. It's the total body of work that's actually going to rally people around change – and sometimes a pivot is required to keep things on track.
Listen. Be open to feedback, positive or negative, and be ready to read between the lines. As a leader, you might think things are going one way; however, you might hear some whispers that things are going differently. So, providing an open line of communication between leadership and end users – and acting on that information – is critical to creating change that sticks.
 Why it Matters
Whether striving for better results on the track or implementing organizational change at the enterprise level, utilizing sound change management principles is often the difference between sustainable adoption and failure. According to Prosci, projects that have excellent change management lead to employees feeling prepared, equipped, and supported. The metrics bear this out:
6x more likely to meet project objectives
5x more likely to stay on schedule
2x more likely to stay on budget
People-dependent ROI achieved
And as I've learned, those principles – and positive results – mostly hold true no matter the setting. If you're interested in learning more about change management – or just want to talk about running – I can be reached at colin.wills@dev2021.theclearing.com. In the meantime, I think I'll head out for a jog.