The Clearing's business consultants Andrea Bachinski and Abbie Beekman both grew up with and worked in the performing arts prior to transitioning into consulting. Their experiences provide a unique perspective when it comes to client engagements. Read on to learn about their backgrounds in music and theater – and how they apply lessons learned from the arts to their work at The Clearing.
Tell Us About Your Work in the Arts
Andrea: I have an undergraduate degree in Theater Arts Management and Fine Art. For the first four years of my career, I was at Round House Theatre running their blackbox theater in downtown Silver Spring, MD. We had small theater companies that would pass through and I would stage-manage the show they were performing at the time. It was me in a 50-by-50-foot theatre handling whatever it took to get and keep the show running.
Then I moved on to the Washington National Opera at the Kennedy Center, where I worked for six years. There, I took care of everyone who went on stage in a group: the chorus, the dancers, the children's chorus, the production team, etc. I managed all of the auditions, hiring, and care of those artists when they were on contract. We often had between 300 and 400 people on contract at a time. I went from small casts in the blackbox to gigantic casts in the opera house.
Abbie: My mom claims that I was born with jazz hands and was singing from the beginning. I started formally singing and dancing in early childhood, around four or five years old, and then began piano lessons at six. Three years later, I took up the saxophone. I was in choirs and bands throughout school and then in college, went on to receive a double major in both Public Relations and Music (vocal performance). I continue to perform, mostly singing and also playing piano and jazz on my alto saxophone.
When I graduated, like Andrea, I started my job at the Kennedy Center. I began as an intern in Development on the Special Events team. I supported galas, opening nights, the Mark Twain Prize for American Humor, and The Kennedy Center Honors all within my first fall season. That winter, I transitioned into a full-time role with the Washington National Opera, which is when I met Andrea. Two years later, I switched over to the Kennedy Center team and worked in the Corporate, Foundation, and Government Relations team, managing a variety of development, fundraising, and event activities.
What Inspired Your Transition to Consulting?
Andrea: I grew up attending Girl Scout camp – both as a camper and eventually as a counselor. In the early 2010s, the Girl Scouts divested many of these camps, including mine. The staff who had gone to that camp formed a nonprofit and bought it. It still runs to this day. As part of the development of our board, we had an organizational development (OD) practitioner facilitate our meetings.
I had the realization that every single arts organization that I had ever worked with at the blackbox theater needed an OD practitioner to help them with planning and strategically executing their mission. Because of this epiphany, I applied to American University and earned my Master's Degree in Organizational Development while I working at the opera. The arts and OD are like different sides of the same coin. They are both people telling stories and trying to put good into the world.
Following graduation, it was a question of how could I make a bigger impact using this skillset. I called The Clearing's consultant Chris Cotten, who was in my cohort in grad school and I said, "Chris, what am I going to do?" And Chris said, "Well, I found some like-minded people at The Clearing." And that's how I found my clearing.
Abbie: I had been at the Kennedy Center for nearly five years and was starting to think, what's next? Working in the arts is incredible and it's one of the most rewarding careers, but it's also one of the most difficult because you're working all the time. You work your regular week and then continue to work at performances and events. When do those happen? Nights and weekends. I soon realized how difficult the hours were and after a while, couldn't keep pouring from an empty cup. I had to start thinking about what else could give me the same kind of energy and leave me room to enjoy the arts in a way that's hard when you're working so closely in it.
Andrea had already left for The Clearing and asked if I had considered consulting. At the Kennedy Center, we had consultants help us with organizational work. During a facilitated session, I realized these consultants were, in essence, performing. And I had an ah-ha moment: Wait a minute – I'm a performer; I love performing and speaking in front of people. It's one of my favorite things in the world! Meeting facilitation is just another form of performance, and I wanted to give it a try.
I decided The Clearing would be a great place where I could take all of my performing skills and translate them into facilitating and leading people through conversations and different ideas. It turned out to be a wonderful crossover where I use a lot of the same skills: engaging an audience and making sure they are coming along with me – ensuring that they're smiling, they're laughing, and they're getting something special out of the conversation.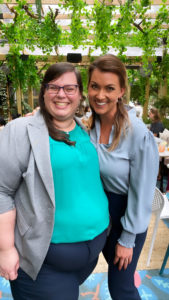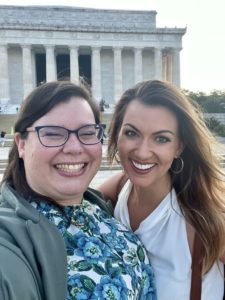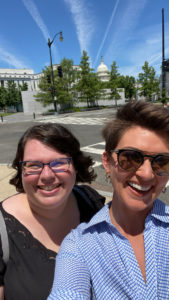 Where Do Consulting and the Arts Intersect?
Andrea: In a performance, you're always striving to improve. In consulting, we're accomplishing the same thing – helping teams do something better. In both cases, it takes time, dedication, and practice. I often think about how when Abbie and I worked together at The Kennedy Center was a perfect example of OD in practice.
With her role in development, Abbie knew when VIPs would be visiting the studio for a rehearsal. She would call me regularly and give me a heads up. In theory, there was no reason that she and I should have been talking to each other. The system was not interested in development talking to the studio manager. They simply weren't tracking how useful it would be for the studio to know which VIPs were walking the halls. However, Abbie knew and I knew – which meant the studio could be ready for VIPs to have the doors ready, have greeters to escort them, etc. In essence, it was using our organizational capacity to create a better customer experience.
I'd be remiss if I didn't mention casting. When I was at the opera that was a big part of my role. Now, when I'm building teams at The Clearing, I'm often thinking about it like casting – what are the requirements for this role? Instead of looking for someone who can literally juggle on stage, I'm looking for someone who can metaphorically juggle clients and delivery.
I also think about people's "I want" songs. At the beginning of every musical or Disney movie, there's an "I want" song. The Little Mermaid? I want to be where the people are. Lion King? I just can't wait to be king. Hamilton? I won't throw away my shot. Whether I'm building a team or beginning a client engagement, I'm often thinking about what people's "I want" songs are. It helps me know the best way to cast my team or understand our client's desires.
Abbie: I mentioned earlier that so much of what we do in consulting is bring people on a journey and make sure they are having a good experience. That requires great client relationships. I use a lot of my experience in donor engagement and events in how I work with my clients today. It's a very similar foundational approach to managing those relationships. It also involves a lot of active listening. Similar to how you'd listen to the people you're sharing a stage with, you're always listening to your clients, to your colleagues, and for new approaches and ideas.
Finally, when facilitating or holding a session, it's also a show. Regardless of how prepared you are or what goes on, the show must go on! You practice, use all of your skills and training, and deliver a great performance, no matter what.
How Can Leaders Incorporate the Arts into Their Work?
Andrea and Abbie:
Listen to people's "I want" songs. It will help improve both your customer and colleague relationships.
Practice, practice, practice. It will allow you to show up with polish and poise – whether you're on stage or in a boardroom.
Stay adaptable. On stage, performances don't always go according to plan. It's critical that you're prepared to adapt to keep the show moving. The same is true for business consulting engagements. You never know when a topic may come out of left field that shifts the dynamic of a meeting. Being ready to adapt will help you keep your agenda on track and ensure everyone feels heard.
Whether you're looking for a great performer… er, facilitator… to shepherd your next meeting, or are interested in learning more about building effective teams, you can reach Abbie at abbie.beekman@dev2021.theclearing.com or Andrea at andrea.bachinski@dev2021.theclearing.com to learn more.